"The Kenpo vs Kempo Debate"
While there are many systems using Kempo and the alternate Kenpo spelling, there seems to be some misconceptions in regards to the term Kenpo vs. Kempo as it pertains to systems with a lineage to the Hawaiian Karate / Self-Defense traditions; e.g. Mitose's Kosho Ryu Kenpo; Chow's Chinese Kempo, and Parker's American Kenpo and arts with a lineage back to any one of these systems.
Here's my take on these misconceptions: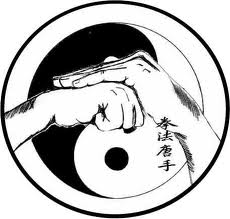 1. The Meaning of Kempo / Kenpo
The claim is that "Kempo / Kenpo" is a specific martial art system handed down from Bohidharma (Daruma / Tamo) is inaccurate (or a gross embellishment).
Kempo, 拳法, is simply the Japanese translation of the word "Chuan Fa" (Cantonese romanization is typically "Ken Fat" / "Kyun Faat") denoting self-defense systems with a Chinese origin.
In Chinese, the typical meaning of the word "Chuan Fa" is "boxing" or 'fighting technique'. So from a Japanese perspective, it simply means "Chinese Boxing" or "Chinese Fighting Techniques". Nothing more, nothing less.
2. Is it spelled with an N or M?
Then there's the debate in regards to spelling of KeNpo vs KeMpo. Some argue that if they spell it with an "N" that it is of Chinese origin.
This is also an incorrect assumption. It is simply a romanization "error". It is the same characters in Japanese and is pronounced exactly the same. In "hiragana" (Japanese alphabet) both Kenpo and Kempo would be spelled in this manner: けんぽう.
The romanization to KeMpo is from the traditional Hepburn romanization system, which was first used in the 3rd edition of the Japanese – English dictionary in 1887, and named after James Curtis Hepburn.
3. Why the difference between KeNpo and KeMpo then?
The original art of KeNpo taught in Hawaii was by Reverend James Mitose, who taught Kosho-Ryu Kenpo Jujutsu at the Official Self-Defense Club in Hawaii during the 1940s.
And the primary reason for the variation of spelling to KeMpo in Hawaii was because Professor William K.S. Chow, who wanted to separate himself from the earlier spelling of KeNpo as used by Mitose; and also separate his art from the spelling used by some of his students (who chose to call their art KeNpo).
As a side note, Professor Chow was apparently the first in Hawaii to combine the words Kempo & Karate… to form the now popular term "Kempo Karate" (Kenpo Karate), although the term "Karate Kenpo" had been used prior to Professor in the book "Karate Kenpo" by Mitsu Mizuho in 1933. Copies of this book was brought to Hawaii by Mizuho himself in 1933, and it had been circulated within the Karate community there during the 30s.
–
These days you can typically understand the lineage of a system by the way it's spelled. Those spelled with an "M" often have a lineage to the martial art taught by Professor William K.S. Chow or his students in Hawaii; while the alternate spelling, KeNpo, is often used by systems with a lineage to Ed Parker (a student of Professor Chow).